How To Download COVID Vaccine Through WhatSapp
 Good news for people that are fully vaccinated in India!
If you are a fully vaccinated person that's living in India, you can now get your Coronavirus Vaccine Certificate directly from WhatsApp.
Yes, that's happening and you can do it now!
According to an update by the government of India, you can now download the certificate through WhatsApp.
The facility was recently enabled as an update on MyGov Corona Helpdesk on WhatsApp by the Central Government. The new update allows users to download their coronavirus vaccine certificate directly from the platform.
Here is how you can download yours!
How To Download COVID Vaccine Through WhatSapp
First step:  
The first thing that you would have to do in order to download your Coronavirus Vaccine is to save "90131-51515", which is the contact number for MyGov Corona Helpdesk. Saving this will allow you to benefit the features a chatbot has for the citizens of the country.
Second step:
The second thing that you need to do is open the chat box with the number that you just saved above.
Third step:
 The third thing that you need to do is send "download certificate" in the chat box. This will allow you to get closer to the vaccine certificate.
Fourth step:
 The chatbot will ask for the OTP (One Time Password) that was sent to your registered mobile number.
Please do keep in mind that you need to use your registered mobile number if you want to download it via WhatsApp.
Fifth step:
 The fifth thing that you need to do is wait until the OTP is accepted. Once it happens, the chatbot will confirm the name of the candidate.
Sixth step:
 The sixth thing that you nee d to do is type "1". Doing this will allow you to download the certificate.
This is what your chatbox should look like: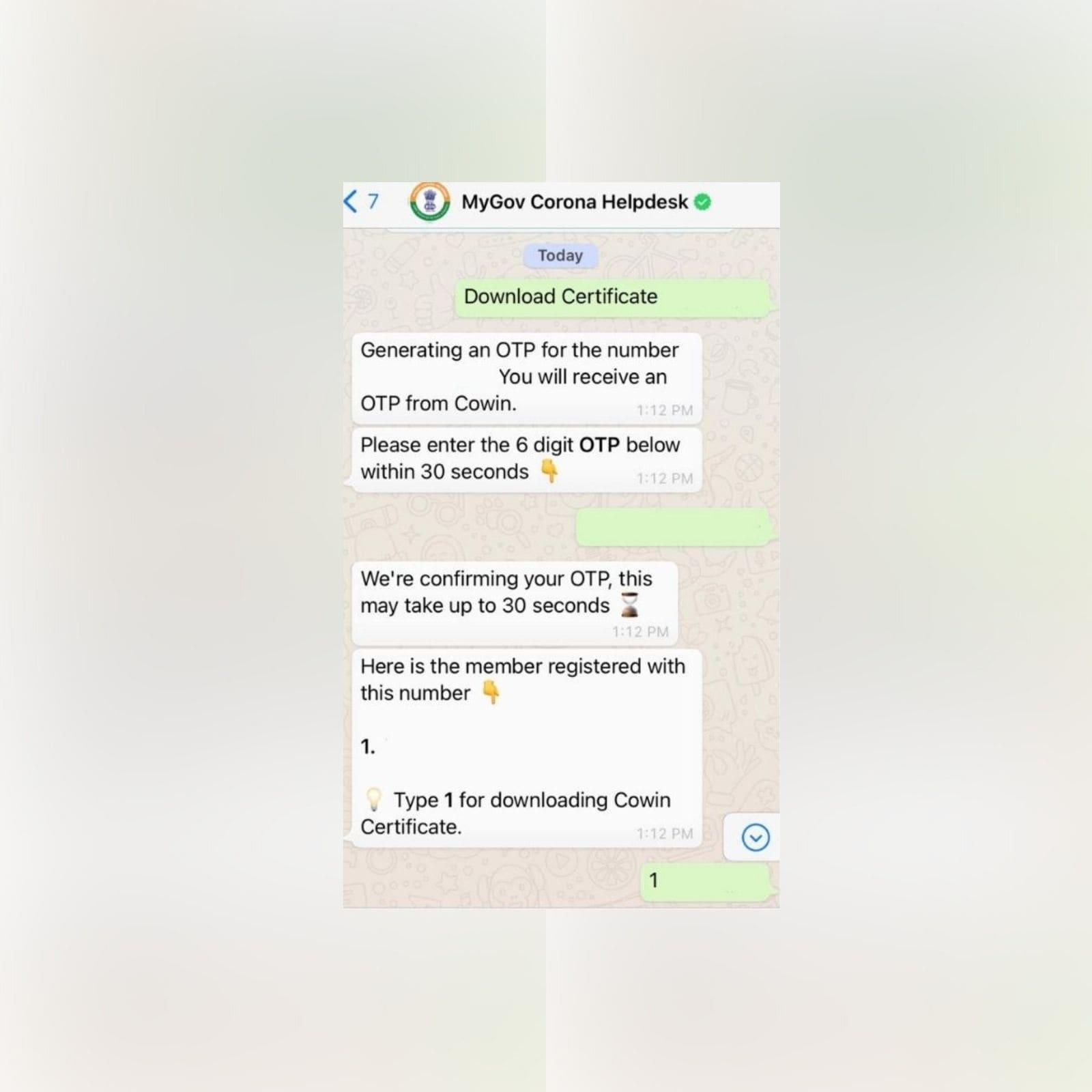 Did we miss out anything in the list above? Let us know what we missed out by leaving a comment in the comments section below!