The 13 Best Heatmap WordPress Plugins And Services
Basically, a heat map, which is also known as a heatmap, is a visual representation of the recorded clicks of your website's sections that gets the most clicks.
A heatmap will show how many clicks a section of your website gets. This type of data is used to gather information so you and your team can make changes to your website.
How Can Heatmaps Help?
For those that do not know, heatmaps are extremely useful in content marketing. The data that is gathered in heatmaps allows you to focus on the section that is getting the most clicks.
How can the data help? Well, heatmaps gather information and data on each section. This way, you can understand how your website's design and content is affecting the choices of each viewer.
Areas that get the most clicks will have red color and areas that get fewer clicks will have a yellow color. Green and blue colors indicate that there is very few clicks on that region.
How does Heatmap work?
Heatmap works by collecting data from a website's page. Heatmaps use dark to light color scales to display which page of your website is getting more clicks. The darker the color, the more clicks that the web page is getting.
For sites with a huge number of users, running a heatmap on the same server where WordPress is installed, calls for significantly higher resources. This could prompt an unwanted burden on the webserver, which brings about lowered performance. Eventually, you'll have a slow site – and nobody needs that.
Heatmaps work by collecting data from a website's page. It uses a dark to light color scale to display which content of the web page is getting more clicks or responses. An area with the most clicks will show a very red color, and an area with no clicks will have a blue color.
The 13 Best Heatmap WordPress Plugins
1.UX Sniff

Ux Sniff offers realtime tracking your user's behavior, recognize and report irregular user activities on your website's pages. The UX Sniff plugin permits you to install the UX Sniff tracking code to your WordPress website without editing anything in your theme. The plugin additionally shows the basic stats of your user's behavior and identify irregular user activities. One thing to note is that you will have to signup for an account on uxsniff.com so you can get your tracking code. Some of the basic features that the plugin includes realtime checking, heatmaps, rage alarms, and element inspector. However, you may need to login to Uxsniff for more complex features, for example, Click map and Users Explorer.
Plugin Features
· Insert UX Sniff tracking code
· Realtime checking your user's behavior
· Heatmaps
· Report unusual user activities
· Element Inspector
· URL Inspector
Editors Note:- We tested the plugin on our website, and it impressed our technical team. The plugin is light and easy to use with powerful features. We also tested the plugin for accuracy, and it passed all our tests. We personally would like to suggest that you download and install UXSniff to test it on your own. While the plugin is new to the game, we have only praise for the developer for developing a neat and tidy plugin for WordPress users. For this reason, we have put UX Sniff on top of our list.
2. Mouseflow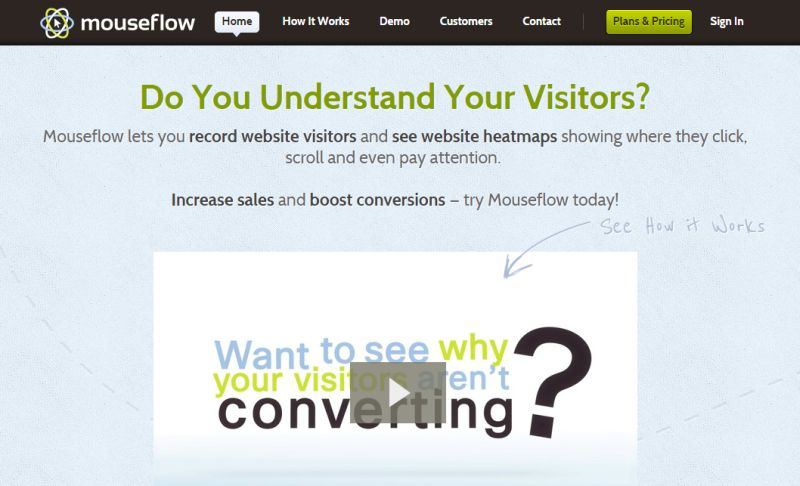 Mouseflow puts a ton of efforts on playback, and it records all mouse movements of the visitor– including clicks, scroll events, keystrokes, and form interaction. Mouseflow can even record your visitor's keystrokes when they fill forms. It has a separate version for online business tracking and has a good WordPress plugin. Plans start at $10/month, and they likewise have a small, forever free plan.
3. Crazyegg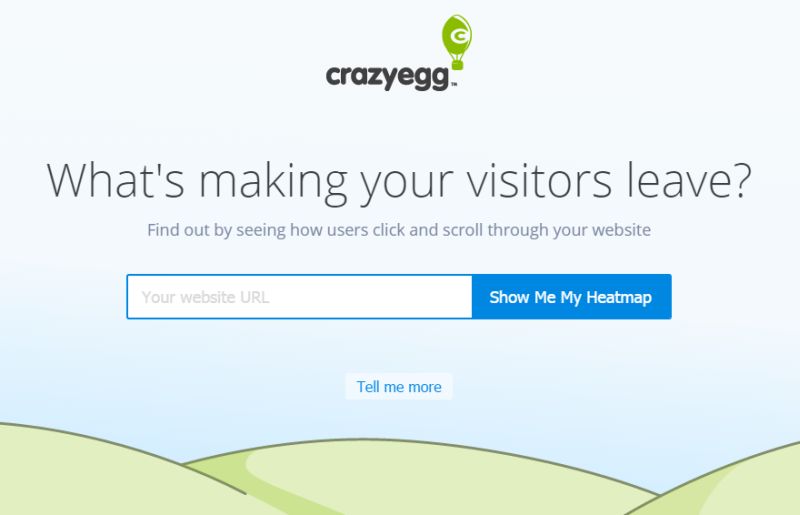 This amazing heatmap plugin was created by Neil Patel and Hiten Shah. Crazyegg is an incredible plugin for tracking mouse clicks on your website pages.
Highlights:
· Click information heatmap
· Scroll map tracking
· Overlay for the number of clicks on specific elements
· Feature to recognize clicks dependent on referral sources (organic, direct traffic, etc.)
· Track multiple domains inside a single account
Crazyegg promises to have up to 88% tracking accuracy when compared with the other eye-tracking tests. They likewise have a free WordPress plugin for simple integration on your WordPress blog. All plans are free for the first 30 days, and the pricing option begins from $9/month.
5. C licky

Clicky, which is considered by many as one of the top players among the heatmap analysis service providers, currently has more than 695,000 active subscribers. Clicky gathers heatmap information on a per-page basis, as well as for a single visitor session.
Features of Clicky includes:
· Goal Monitoring with changes for specific user activities
· Application Programming interface for allowing video tracking using a Third-party service
· Advance bounce rate calculation
The plans start at $14.99/month for the Pro Plus option alongside an introductory account of the initial 21 days free of cost with full access to all features. Obviously, there's a free Clicky WordPress plugin to rapidly integrate the services with your WordPress site.
6. SessionCam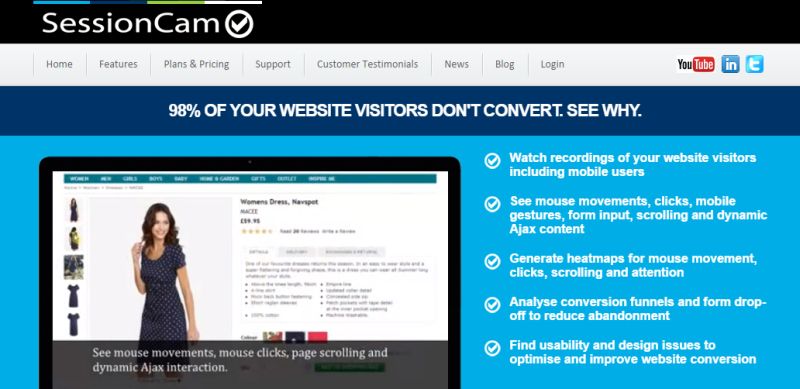 SessionCam can help you in tracking the activities of a user on your website. SessionCam offers services, which include where the users moved their mouse, which forms they filled (regardless of whether they didn't submit them), and any error they have encountered during their duration of stay on your website.
Not only that, it also has a fascinating feature that is called Session Replay. By using this feature, you can choose a user from the tracking reports and watch a playback of their activities on your website.
The best part of going with SessionCam is that it offers a free plan comprising of every one of its records and features for up to 500 pages each month. Not only that, signup does not require a credit card.
7. Clicktale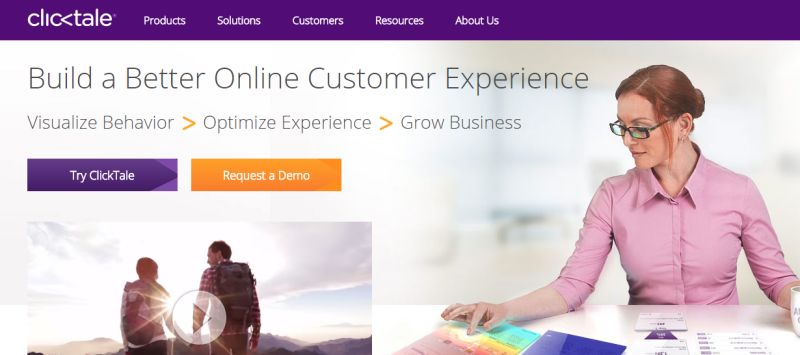 Clicktale, a heatmap plugin, which is an enterprise-level mouse-tracking program, is currently being used by more celebrated brands. This plugin has amazing features, which include session playback, conversion funnels, information-rich heatmaps, and form analysis.
Here are some of the product options Clicktale offers:
Mouse Tracking Suite
ClickTale Touch
Heatmap Suite
Conversion Suite
Not only that, Clicktale has a free plan that allows up to 400 page views every month.
8. Heatmap.me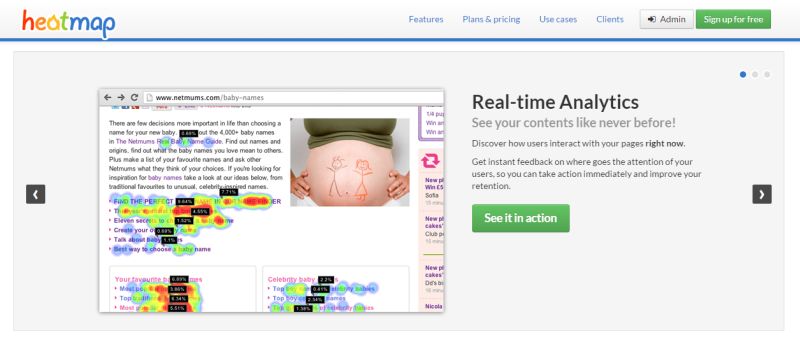 Heatmap is one of the best real-time analytics providers in the game right now. The downside with this one is that you will not see the information of the user that is clicking on your website. with Heatmap, the user will stay completely anonymous, allowing them to have good safety. Their plans start at $100 per month, with a free one-month subscription, which incorporates 1 million page views, one site, and tracking for up to 5 pages.
9. Ptengine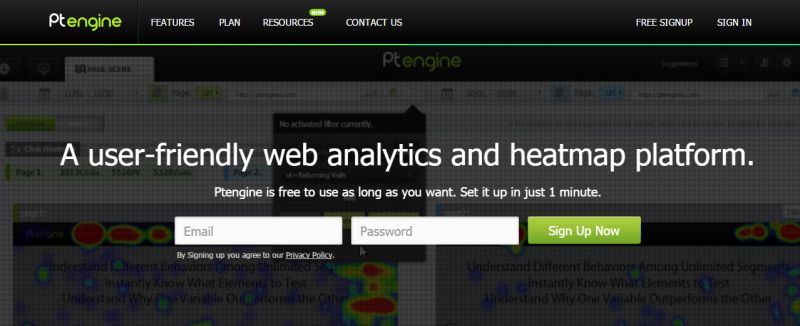 Ptengine is a featured-packed web analytics. The best thing about this plugin is that it has 8 separate tracking components. Not only that, its heatmap has 6 amazing features.
The 6 amazing features of its heatmap WordPress plugin includes:
· Multi-Device Monitoring
· Page Analysis
· Scroll Reach Map
· Click Heatmap
· Attention Heatmap
· Heatmaps Segments and Comparison
When it comes to their pricing, they also offer a free plan, which can track up to 20,000 pageviews for every month across one domain. Their paid plans start at $39 per month. The starting plan offers to track 50,000 pageviews across 20 domains.
10. Heat Maps by SumoMe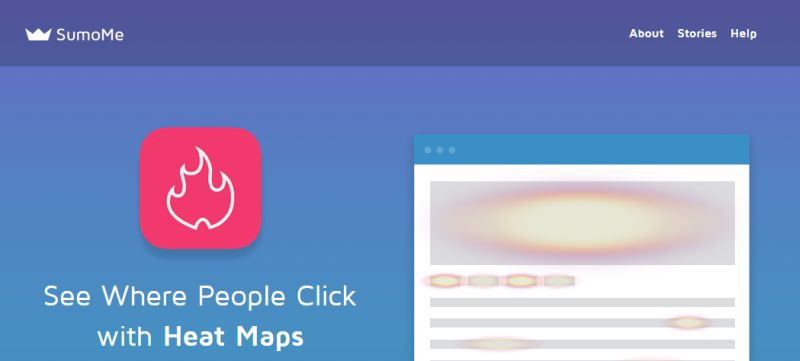 Noah Kagan, the creator of SumoMe, offers his services for free. The SumoMe is among one of the few new companies that give amazing free marketing tools. The heatmap that they offer works on all websites. Not only that, their plugin can be easily integrated with a WordPress website
11. ExtraWatch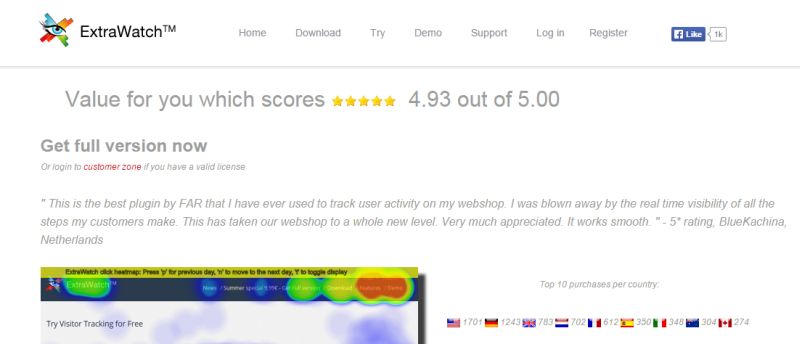 The best thing about ExtraWatch is that it has a free version of the plugin. The free plugin offers click tracking, Heatmaps, download monitor, and live visit statistics.
ExtraWatch also has a paid version of its plugin, which has a number of its own unique features. The paid The paid version of this plugin has a couple of attractive features. But the downside with this is that it has a limiting factor, which is that it only depends on your site's database to store the collected data. This means that the chances are pretty high that it will be slowing down your website's loading time when someone visits it.
12. Heatmaps and Analytics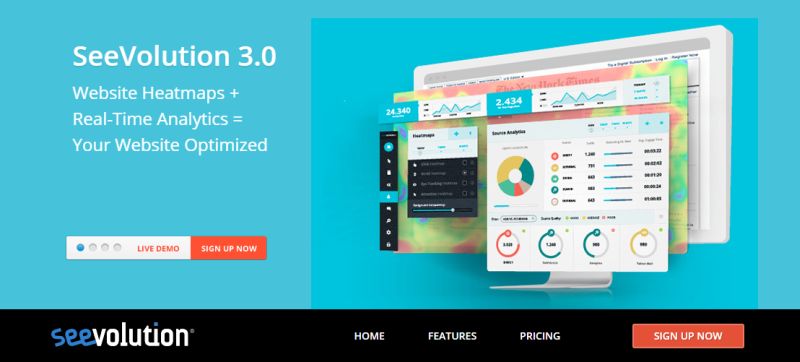 The SeeVolution tracking code integrates into the web pages of your website. The real tracking will be done by the plugin provider itself.
Unique Features of SeeVolution:
· Click heatmaps
· Scroll heatmaps
· Mouse movement heatmaps
· Realtime analytics
The plans for this one starts at $29/month. According to its official website, the plugin supports 300 visits per month and produces four kinds of heatmaps for the website owner.
13. Inspectlet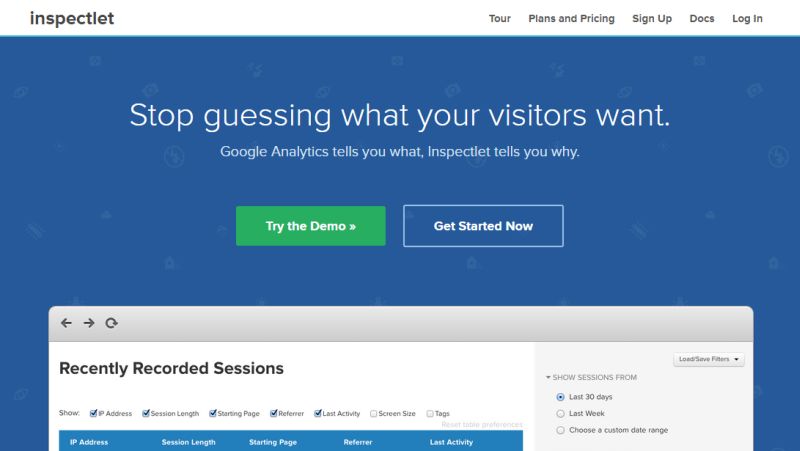 The Inspectlet plugin is one of the best in the game. It integrates the Inspectlet Analytics to your WordPress site so you can track the data in a much better way.
Their service tracks mouse movements, scrolling, clicks, and typed data on your website.
According to official numbers, the website is trusted by more than 25,000 prominent companies, which includes the New York Times, Cisco, eBay, WordPress, and SalesForece.
The good thing about them is that they have a free plan that records 100 sessions for a single website. Paid plans start from $39/month with 5000 session records for one website.
Conclusion
We have tested almost all of these heatmap services and found the pros and cons of all of these services. You can look for a service that is allowed by your pocket or go for a free service like UX Sniff. Test a couple of them to check which one suits your needs better. Try to install a plugin on your WordPress that doesn't put lots of load onto your server. A slow website can spoil the user experience that you want to provide to your visitor.
With this new data, you can streamline your landing pages effectively, increment your conversion rates, and ultimately make a superior experience for your visitors. Are you aware of cool heatmap analytics services we haven't listed here? Let us know