MS Paint Gets An Update And Has New Keyboard Features – Full Shortcut Keys List Available Below
Around 2 years ago, Microsoft announced the "deprecation" of MS Paint and decided that they will be heading to a new track. But that does not mean that the tech giant removed the program from its system.
MS Paint is still in Windows 10 and guess what? it just got an update.
Microsoft recently announced an update for the program and said that it got new keyboard controls.
When the program was "deprecated" two years ago, many vloggers, bloggers, writers, and journalists called the program "dead".
Microsoft said that MS Paint will be out of the Windows System and will be moving in the Store app.
All plans were canceled and MS Paint will be staying in the Operating System, plus the application will not be moving into the store app.
What shocked everyone was that the tech giant started to give it updates with new features.
Everyone loves MS Paint, it was our go-to application when we were bored and we tried to do a lot of crazy stuff on it.
But it just got better, the May 10, 2019, update allows to use the application and draw in it by using their keyboard.
You can use the arrow keys to move the cursor, the space bar in your keyboard to activate the select tool, and CTRL to move the canvas.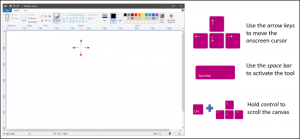 Here is the list of keyboard shortcuts that you can use in the new update:
in the blog, Microsoft said, "We know that Microsoft Paint (MSPaint) is well-loved by customers and we're pleased to announce new accessibility features coming to Microsoft Paint with the release of the Windows 10 May 2019 Update."
It added, "We've introduced the keyboard as a primary input mechanism. Microsoft Paint is already fully functional with mouse and multi-touch tablet input, but customers will now be able to use the app and draw with only their keyboard."
At the end of the blog, you can see the tech giant saying "Let us know what's working and what else we can do to improve."
Which means that there is a possibility that the application could still get updates in the future.
This news is pretty big, especially after the company announced that they would stop adding updates to it and would be removing it from the operating system.